11 Benefits of having Digital Signage Displays for your Retail and Service Businesses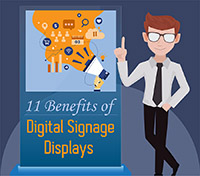 Digital signage displays has increased in popularity in the past few years, and it has now become an integral part of most businesses' marketing strategy. It may not be a new concept in marketing, but with the advancement of the digital technologies, and the need to save advertising dollars while still reaching the maximum number of target audiences, it has come both as a solution and a complementary methodology that is proving to be easy to effect, and one with deadly effective results on the marketing budget.
If you have a business and you are still on the fence wondering if this would be a great idea for your business, then you need to be advised that you have everything to gain and nothing to lose by adopting the use of these signs as part of your digital marketing efforts.
If you need more convincing, then here is a look at the following 11 specific ways through which your business may benefit from them.

To add this infographic to your website and/or blog, simply copy the code below and paste it into the HTML of your web content or blog post:
Increased engagements and sales
One of the greatest benefits to businesses using digital signage in their business is the increased engagement they normally end up having. Potential clients and customers are 400% more likely to notice digital signs compared to a static sign, and with increased views on the signs, the business is likely to record an increase in the number of sales or clients.
A study show that 86% (nearly 9 out of 10 customers) claim to have entered a store simply because there was a video or slideshow running on the LED display and nearly 83% retailer noticed an increase in sales after installing the digital signs. Therefore, if you have no digital signs, then you are most likely to be losing on this huge engagement and sales.
Reduces the perceived wait time
A dynamic signs display can be used to slide through all information about the product or service information, which help guide the customer to get the right the items they're looking for more quickly without waiting for such information from staff. If used correctly in common waiting bays, office lobbies or store such as lounges, lobbies where customers spend some time before they get served, they can be very effective in reducing the perceived wait time in those businesses. This is because while the clients wait, they can get entertained by the screen so that they don't focus on the wait time, but rather what is being played on the digital screen. In such a manner, the clients will not realize if they have been waiting for long, and it will also allow the service staff ample time to offer their services effectively.
They are ideal for running time-sensitive ads
Static displays require a lot of preparation, which normally involves time in crafting the messaging, designing the display and then coming out with a print out of the same in various forms such as banners or stickers. However, this is never the same as digital signs display. You can easily make amends or change messages on the fly and have it displayed on the screens. In case of a time-sensitive message, you will be better off and more effective with digital signs compared to using the traditional static signs.
Coming up with new creatives is inexpensive
Coming up with new creatives for a new brand message or ADs for your static displays will not just take you time, but also will be expensive. It means that every time you need a new message, you will have to start the process afresh by getting new templates and designs and all these will cost a lot of money.
However, the case with digital signage is quite simply. All you have to do is make a few edits and then let the message run. In most cases, there will be pre-made templates which will only require you to remove to the old message then add the new one, then you will be good to go. As such, it saves both time and money.
Makes it easy to run relevant and customized ads
With digital signage, you can easily program the system to be displaying different kinds of ads based on different times of the day or the week. Once you have done the initial settings, it becomes completely hands-free. This is not something you can easily do with static displays and it will be very hectic if you have to keep on changing the ad or the message multiple times a day or a week. It requires a lot of manual work, and this can weigh down on the quality of the ads, as well as the effectiveness of the business.
Can be interactive
It is very possible to use digital signage for customer interaction and there are a number of things you could achieve as a business from such interactions. If used properly, they can be used for getting more information from your customers which you can then use to improve service delivery or the quality of goods offered. You can also use the interactive nature of the signage to keep the customers busy while they wait to be served or to offer demonstrations about particular products or services.
Increased personalization
With the built-in facial recognition sensors and AI solution, the touched signage display can gather information about your preferences and buying habits, it personalizes your shopping experience by displaying what should be shown to or suggesting new products or service tailored to suit your needs.
Effective in testing marketing campaign
Network wifi digital signage allow seamless creation, deployment and monitoring the existing and fresh ads via a supported signage management platforms. Because you can put up fresh marketing campaign and take down the old one at just a few clicks and drag-and-drop remotely, it will be extremely effective in testing which campaign work best in target location and time, thus you can leverage creative work and update the right in-store marketing and double up the marketing efforts .
They have greater retention and recall rate
One of the main reasons for having interactive signage is to make customers take action straight away – this can be placing an order, making a purchase or any other kind of action as desired by the company. This can be achieved more effectively when you use interactive signage compared to using a static sign. Additionally, digital signage can be used to remind customers of upcoming events, promotions, deals, and offers. Customers and potential clients are likely to remember such when they see and interactive them on touched signage compared to when they ready them on flyers or posters. The result is that customers will have a greater retention and recall rate, which will ultimately reflect on the company's profits.
Ease of maintenance and deployment, low administration cost.
Just a one-time investment, save money in the long run by reducing printing statics ADs and administration costs. In most of time, the marketing campaigns can be done and be deployed to all branches/franchises by one admin esaily via just some drag-and-drop jons at the server end in a matter of minutes from a central location.
Brand your business
As well as being an effective way to interact with mass audiences, it can serve to build brand awareness. A study by Nielsen in 2010 show that digital media has 31 percent increase in brand awareness and recall. Network signage display system provide a ideal place to put high quality videos, images, and texts to display your marketing campaigns, brand story, company history, and other information that can hyper-targeted to make consumer feel happy about choosing your business there. It makes it more efficient for smal business like retailer or big size national company to building brand awareness .

These are some of the benefits that businesses are likely to reap when they invest in digital signage, and reasons enough for all businesses to seriously think of investing in these types of advertising.
You might want to read:
Things you must know before buying a digital signage display
---
References: